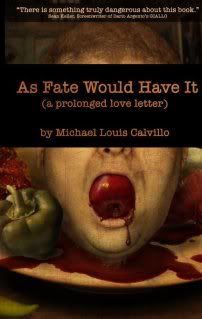 AS FATE WOULD HAVE IT (2009 Bad Moon Books / 290 pp. / hc)
Remember the low budget 80s schlock-fest, GORE-MET ZOMBIE CHEF FROM HELL? Of course you don't, being there were about five of us (world-wide) dumb enough to rent it (yes, it's a real film---google it).
I'm happy to announce that Michael Louis Calvillo's second novel, dealing with another culinary crackpot, is NOTHING like the aforementioned flick. Like Wrath James White's SUCCULENT PREY, this one deals with cannibalism and works on a level that's more psychological than physical (despite some gruesome depictions of murder).
When her friend Heather goes missing after a date, Ashley begins to worry and eventually investigates the man who had asked her out. With a little Net-searching, she discovers Montgomery is a highly respected chef, as well as the name of the restaurant ('MAIZE') he works and teaches at.
Along with her underground detecting, Ashley's also struggling to get her junkie punk rock boyfriend (and herself) off the smack. Things get a bit easier when his band finally lands a record deal, but begin to go south when she ends up being abducted by Montgomery.
What follows is a gripping, tense trip through the mind of a psychopath who has a much stronger human side than your typical genre slasher; sure, he's a real nutjob, but Montgomery HATES to murder, despite he and his girlfriend's addiction to finally-prepared human meat. 'Sound a bit too b-movie-ish? Trust me--it's not. Calvillo has crafted a realistic, tormented villain who you want to see get his, yet at the same time may find yourself cheering for his recovery.
AS FATE WOULD HAVE IT's suspense level is fantastic, and despite some "thought" sections that seem to ramble a bit, I doubt you'll be able to put this one down. (One note of warning: if you're a kitty lover you might squint at one scene!)
(You can grab a cpy here:
http://www.horror-mall.com/AS-FATE-WOULD-HAVE-IT-by-Michael-Louis-Calvillo-p-18554.html
)