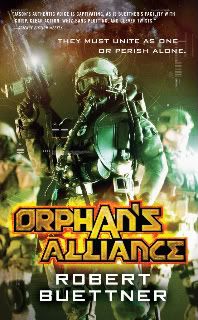 ORPHAN'S ALLIANCE by Robert Buettner (2008 Orbit / 308 pp / mmp)

Jason Wander has come a long way since earth was attacked by skyscraper-sized projectiles back in ORPHANAGE, the 1st book of this series. We've seen him go from a typical teenager to the commander of the military; he's fought (and conquered) countless Slugs and has dealt with politics that would make the Bush administration blush.
Now, in Buettner's 4th installment, Earth's Army joins forces with humans from two other planets in an attempt to stop another slug-invasion, this time on a barren rock-planet, code-named 'Mousetrap.' By figuring out how to jump through black-hole-like folds in space, the humans are finally able to (nearly) keep up with the quick travel tactics of the Slugs. And the possession of Mousetrap is crucial in deciding how far the Slug war will go.
As with the first 3 books, ORPHAN'S ALLIANCE features exciting battles, awesome technology (wait 'till you get a load of the new fighter ships known as 'Scorpions,'), and plenty of political hi-jinks, this time with Jason Wander actively involved. Mimi, Munchkin, and Wander's godson Jude are all back, although Jude seems to be taking a turn that wouldn't have been approved by his late father. Wander's spider-like robot Jeeb has also been recharged and ready to get back to work.
While a couple of slow scenes keeps this out of the non-stop realm of ORPHAN'S JOURNEY (Book #3), ALLIANCE is still a satisfying episode, and further establishes Jason Wander as a future military commander men like General Patton would've been proud of (in fact, Wander's musings throughout the novel act like nifty little history lessons).
This is testosterone-fueled military scifi full of cool creatures, tech-savy combat, and an ending centered around an impossible-rescue that'll keep you hungry for ORPHAN'S TRIUMPH, the next in the series.